2020 is my second season competing in the colours of BEAT Cycling as many of you already know. However, what many are unaware of is how did I get here, so in the next blog I'm going to take you back in time to tell a brief history of the road to where I am now and how I got into this great of sport.
Unlike quite a few in the peleton cycling was never in my genes so too say. Me and my younger brother were the first in our family to try competitive cycling. For myself this came at the age of 13 and by a bit of a coincidence rather than anything intentional. Simply put, too much time spent playing video games and enjoying plenty of sugary treats lead to me piling on the pounds. One of my neighbours had an old Raleigh racing bike going to waste in the back garden, little did I know this would be the pathway into the next 10 years of my life. That next Friday evening, me and my brother went down to the local outdoor velodrome, pretty reluctantly I might add as I probably hadn't finished the Pokemon game I was playing at the time! Anyway I must have enjoyed it, as at that point, my enthusiasm only grew, I joined the local club, Wolverhampton Wheelers and started to race.
This consisted of a touch of everything from youth circuit racing, the Wednesday track league, cyclocross and later on track racing. Throughout the youth categories I started to have some success competing nationally both in road and track but it was never quite enough to get onto one of the British Cycling talent programmes. I continued to enjoy cycling though and was starting to see some real good results coming on the track scene, mainly at what was called the Revolution Series. Whilst you're a youth in the UK you only race in criteriums so I was yet to experience road racing.

Still racing and riding for local club Wolverhampton Wheelers. Into the junior categories now and it suddenly hit me heading into my final year as a junior rider that if I wanted to make something out of this then I would have to start getting more serious. What happened is one of my biggest regrets and mistakes looking back and something I definitely wouldn't recommend. Simply put, I went from enjoying the sport to being the strictest athlete overnight, I lost so much weight and with that my power was gone. I suffered during track racing, fortunately I still managed to enjoy some success on the road at great events like Junior Tour of Ireland and Wales with some weekend trips over to Belgium.
2017, the year where I really stepped up in cycling. I was living in Belgium courtesy of the Dave Rayner Fund, a fund which supports young British cyclists who move to Europe, I'd settled into a good home away from home (Café SurPlace), had a good group of mates out there with me and was racing well for Belgian 'TopCompetitie' team Profel United. I took my first win of the year in May, along with showing myself in some bigger races. However, in June disaster struck when I crashed heavily during a stage race in France breaking my scaphoid, which kept me out of racing for six weeks. I decided to stay in Belgium though so six long, sweaty weeks of turbo sessions followed, but the hard work was worthwhile as I came out in the form of my life! In the final months of the season I won another three races, racked up a number of top ten placings and placed highly in GC in Ronde van Oost Vlaanderen. This gave me the confidence that I could step up to continental level in 2018, however with teams disappearing left, right and centre it was not easy. Eventually I signed for Belgian outfit T Palm for 2018.
* Foto credits: Sportfotos.be
My first year as a continental rider didn't start quite as I'd planned. I lined up for my debut 1.1 pro race at Le Samyn, a moment I'd been dreaming of for some time, it was a freezing cold February morning. Unfortunately, I only managed fifteen kilometres before being taken down by a team car a mere 15km or so into the race. A harsh awakening that's for sure. It wasn't until mid-point in the season where I started to find my rhythm and results stated to follow. This is where I first made contact with BEAT via email and as luck would have it the next two UCI races I did (GP Monsere and GP Albert Fauville) I showed myself well in the break both days, also getting two top results. From this point onwards we agreed to keep in touch and I continued my good run of form with top ten GC placings in the Tour de Liege and Namur coupled with some wins in kermesse races. We eventually met in late September to discuss me joining for 2019 and within a week I'd signed the contract!
* Foto credits: Sportfotos.be
Adam schrijft leuk hè? Lees de hele serie hier.
Fietsen kan op twee manieren: hard of
gesoigneerd.
Met de BEAT kit en producten
kan je beiden combineren.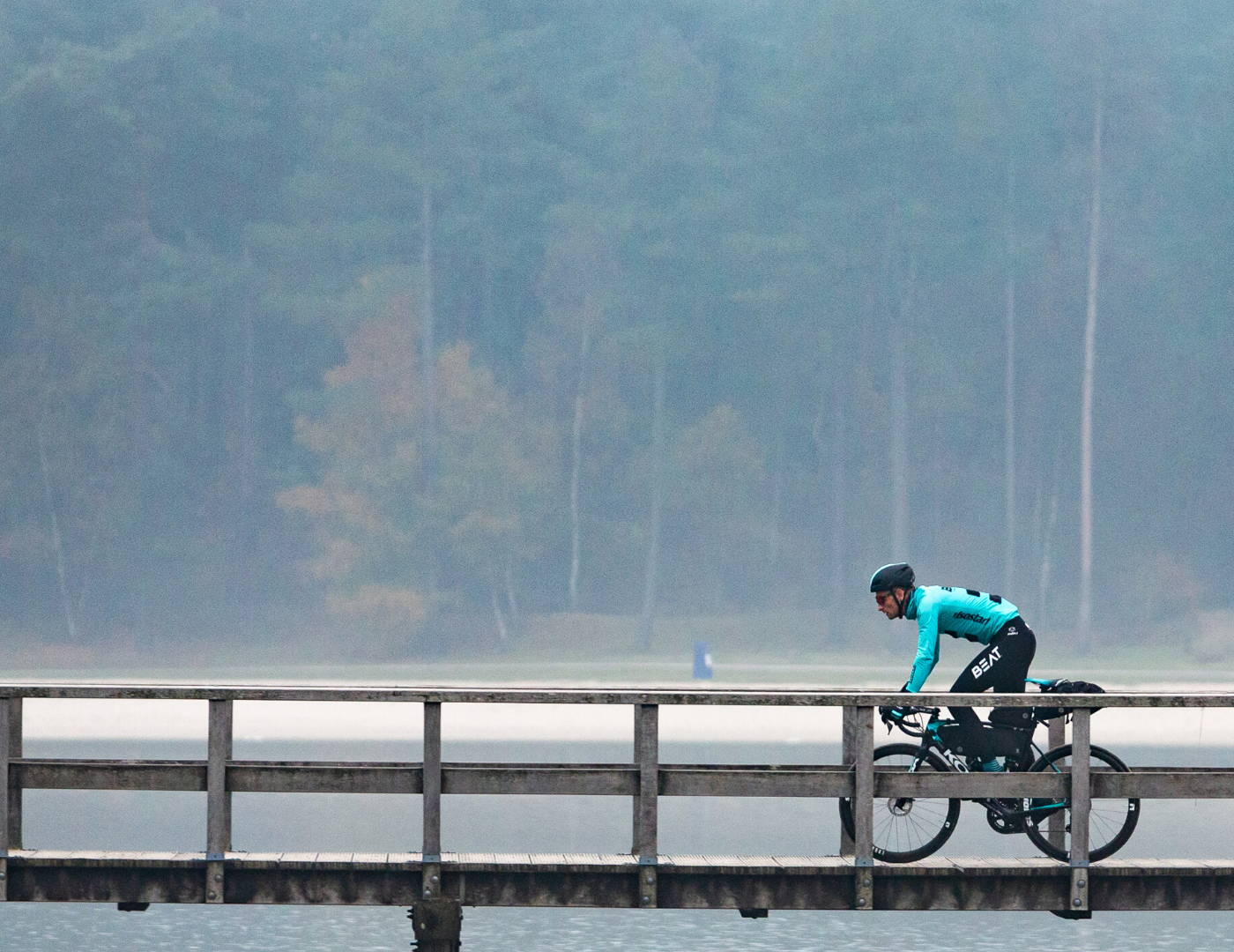 Ontvang de BEAT nieuwsbrief en
krijg toegang tot exclusieve
content.