7 dagen meekijken
in het leven van
Adam Lewis
Stel je voor. Je leeft als Britse jongen al jaren in België, maar door het coronavirus lijkt ineens alles onzeker. Wat doe je dan? Blijf je in België of vlieg je terug naar Engeland? Wacht je de situatie nog even af of onderneem je direct actie?
Deze dingen speelde zich de afgelopen maand meerdere keren in het hoofd van Adam Lewis af. Uiteindelijk nam hij het zekere voor het onzekere en vloog hij terug naar Engeland.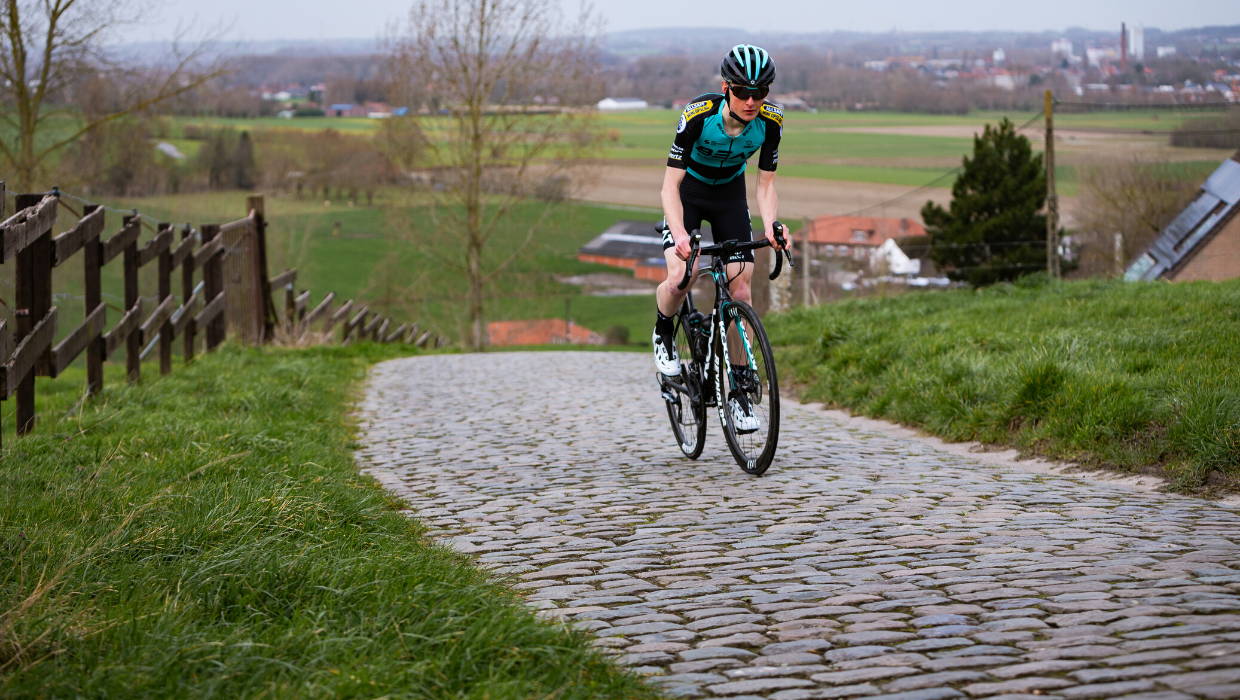 Afgelopen week hield Adam een dagboek voor ons bij. Benieuwd wat hij afgelopen dagen uitvoerde, hoe hij het vind om terug te zijn in Engeland en hoe de situatie daar nu is? Twijfel dan niet en neem even een paar minuten de tijd om een kijkje te nemen in Adam's Diary.
"We're being sent home." It was at this point the severity of the coronavirus truly started to hit me.
Two weeks ago, I was living the 'normal' cycling life at my place in Belgium, along with the men's U23 national squad from Great Britain. This is when they received this message telling them that they are being sent home due to the virus. On that same day all the races starting getting cancelled. "Ah it's only until the start of April", I thought. "Only another three weeks and all will be back to normal". I continued training, the only normality I still had and with the hope that the Volta Limburg Classic would still go ahead. A few days later and it was pretty clear this wasn't going to be the case, the situation worsening daily, Belgium going into lockdown. That's when panic started to creep in and the decision was made to fly home to the UK.
A couple of stressful days of planning later, I found myself sitting in the almost empty airport waiting to board my flight. Just in time too as travel and border restrictions got tighter. The airport itself had a horrible feel about it, so quiet like a ghost town. Which was just as well as it meant we all had enough personal space during the flight. So much, so it felt like business class (not that I know how that feels, I can only imagine). So now I am safely back home as the UK also enters lockdown at least for the next three weeks. We can only hope the situation will improve! Fortunately, I am still allowed outside to train, after some time off last week to get over the mental stress of the whole situation I am back riding my bike this week. Making the most of the very nice British weather we are currently experiencing, however with the situation still very unclear as to when and if racing will restart this year, I am just enjoying being back on home roads for a change without too much pressure.
Netflix series finished: 2
Bowls of porridge eaten: 6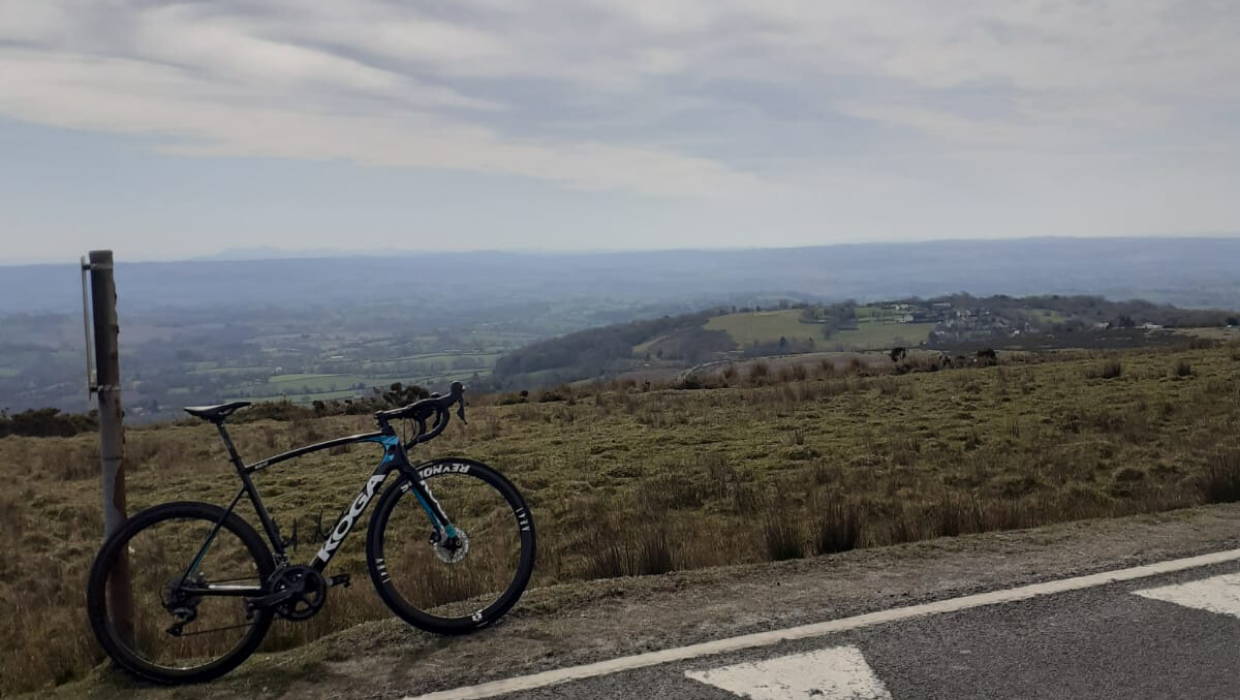 07:30 – Generally the time I wake up every day, even during these uncertain times I like to keep a nice routine so that means waking up and getting out of bed the same time as usual. I am more of a 'morning person' anyway and find myself more productive during this part of the day.

08:00 – Breakfast time! My favourite meal of the day, sometimes I can go to bed the previous night looking forward to what I am going to eat when I wake up. Today Porridge is on the menu, my absolute go to on training days, I am always finding different combos to go on top. I'll get some photos later in the week of my favourites!

09:30-10:00 – Training time, like my wake-up routine, most days I will go out between these hours unless it's just a recovery ride where I will go out later on. Today 4hrs on the menu, although its uncertain times with racing at the minute, I still love to get out and ride my bike, at the moment motivation is good and it's a nice change being back on home roads during Spring! Hopefully I can continue to train outdoors.

14:00 – Return home from my ride, a good day out and good feelings in the legs. Now time for a quick shower and some food!

14:30 – Lunch is served. Today I went for Chicken stir fry with rice and plenty of it. The good thing about keeping training is that I can still eat a lot of food and maintain shape.
15:00 – Once the adrenaline from training has worn off, I like to take a power nap most days. Usually between twenty and thirty minutes just to switch off a bit and help the recovery process.

16:00 – 19:00 After a bit of procrastinating to get out of bed, I finally got up. I must admit the afternoons after training are not my most productive or busy. Especially during lockdown now and I am stuck inside. Today I just chilled out and got the legs up whilst watching the new Movistar documentary series on Netflix (a must watch!). Spent some time catching up on the news via social media, I try to limit my time on my phone as much as possible as I like to feel productive but I was quite tired after training so that will have to do for today. Being a cyclist, I also cannot go more than an couple of hours without food so I took on some snacks; some fruit and peanut butter rice cakes to keep me ticking over.

19:00 – Dinner time, I am at home with my family at the moment so normally we will all sit and eat together, tonight's meal is Chilli con Carne served with rice and some extra veg for those gainz!

20:00 – After doing the dishes, I went back into 'chillmode' and watched some Youtube videos. Aside from cycling, I enjoy catching up with most other sports in particular F1 and football, so I like to watch some behind the scenes vlogs or classic matches.

21:00 – Time for some stretching, one of my main goals in this period is to improve my flexibility so I am dedicating at least half an hour to a stretch and mobility session each day. Today I did a good 40mins of different exercises. It also helps my body and mind relax before bed.
22:00 – Pre bed snack time of yoghurt and muesli, up there with breakfast as my favourite meal of the day. I take the opportunity to watch the news on TV whilst eating this, to catch up on latest news about the current situation.
22:45 – Lights out, another day of training awaits tomorrow!
07:30 – The daily wake up routine continues, another day of training coming up.
08:00 – As I said yesterday, I am a porridge lover and today is no different. Today's toppings of choice; chia seeds, handful of nuts, raspberries, kiwi, banana and honey. Lovely!
09:15 – A quick warm up routine ready for training to get the important muscles firing.
09:45 – Time to put on some AGU kit and head out the front door, 5hrs training on the cards today. Making the most of the good weather and being able to ride outside.
15:00 – Back from a long ride, how does the saying go? Sometimes you're the hammer, sometimes you're the nail! Today I was the nail, tough three-day block comes to an end.
15:30 – Food, and lots of it!
16:30 – Tired today, time for a lie down. Boring I know but not much else goes on during tough training times. Eat, train, eat, sleep, eat, repeat!
18:00 – A thing I forgot to mention yesterday, my daily Dutch lesson. I try to fit in a 15-minute session on Duolingo each day to keep my brain working.
19:30 – More food. Another good reason to keep training, the more you ride the more you can eat!
20:00 – Chillout time, todays Netflix series, Designated Survivor
22:00 – Pre bed snack and a catchup on the latest news.
22:30 – A few pages of my book; Peter Crouch: How to be a Footballer. A quick chapter to help me relax then its time for bed.

08:30 – A later wake up today as I had a recovery day planned.
09:15 – Breakfast time and once more its porridge. You can see the theme starting here. Today's one a little different and maybe controversial. I call it carrot cake porridge. Whilst cooking, throw in a grated carrot (yes, carrot!) along with cinnamon and bit of ginger spice. Serve with your favourite toppings and enjoy, it tastes better than it sounds.
10:15 – Core workout, another area I want to improve on during this period. This along with my stretching routine is a good focus away from the bike.
11:15 – Head out on the bike, only 1hr today so let it warm up a little before going out.
13:00 – Lunch time.
14:00 - 'A clean bike is a fast bike'. Gave our team edition Koga a good wash. I always have to have a clean bike and due to the extra time, we all now have, I gave it a thorough wash. New XLC chain also went on ready for the next block of training.
16:00 – Some chill time, along with a bit of social media scrolling I also listened to the latest F1 podcast and of course my daily Dutch lesson.
19:00 – Dinner time! With a special occasion today also, my younger brother's birthday. A family favourite on the menu of homemade curry with all the sides and of course some dessert.
20:30 – Netflix and stretching session. Tonight's viewing is the new behind the scenes documentary following Sunderland Football Club.

22:00 – News catch up and the trusty yoghurt/muesli snack combo before bed.
23:00 – Off to catch some zzzz's

08:30 – Wake up time, another later start today, full day off the bike on the cards.
09:15 – Breakfast and as it's a rest day it means I have a bit more time to get creative. Protein pancakes on the menu today, a real morale booster.
10:15 – Getting in my daily exercise outside by walking to the supermarkets. Stocked up fully for the rest of the week so I will not need to go again. In these times I try to limit it two times per week. A good walk there and back was nice to clear my head too as well as getting some fresh air.
11:30 – The creativeness continues... decided to try and make a new 'on the bike' snack. No bake peanut butter and oat flapjacks. They really come out well and will be ideal mid ride to keep me fuelled. Now the challenge is not to eat them all before I even start training! If anyone would like the recipe, get in touch!
12:30 – With all shops closed including Barber's due to coronavirus it was time to open Barbershop Adam today. My brother wanted his hair cutting so I gave it a go, for the first attempt it wasn't so bad, I'm sure I will have a few more weeks to get my trim and trademark finish perfected.
13:30 – Lunch time
14:30 – Ahhh, now to let the rest day really commence. Got in a 30min power nap to boost the recovery.
15:30-17:30 – Not much happening here to be honest, making the most of the rest day and 'resting' . Bit of Netflix'ing and of course the daily Duolingo lesson.
17:30 – Preparing tonight's meal. Homemade meatballs in a homemade tomato sauce on the menu this evening.
19:00 – Eat!
20:00 – Clapping for the NHS. Each Thursday in the UK during the coronavirus crisis, people step outside their house and show their appreciation to the healthcare workers of the country. It really is pretty impressive to hear all the people coming outside (but staying on their own front doors.) and showing their support.
20:30 – Logistics; as I flew home from Belgium I couldn't bring too much stuff with me so sorted out how to get a few more of my essentials shipped back here to the UK.
21:00 – Getting that daily stretch on. Bit more banded work today as I hadn't been on the bike.
22:00 – You know it by now, nightly news, pre bed muesli and then bed. Keep that routine.

07:30 – Rise and shine. A busy day ahead.
08:00 – Breakfast time, training today so back to the trusty bowl of porridge to fuel me.
09:30 – After watching last year's Amstel Gold courtesy of Eurosport it is time to head out on the bike. 3hrs planned for this morning with some nice blocks to get stuck into.
11:00 – Mid ride nature break. Also, time to test my new 'on the bike' snack I made yesterday. Can confirm it was a success and the bars taste great!
12:30 – Back home, quick protein shake followed by a quick shower. Then time for some stretching as we ride again later this evening. First double day in a while!
13:30 – Lunch
14:30 – Time for that daily power nap! Recovery 101!
15:30 – Now to get things ready for this evening, we have a team Zwift ride planned later on. The first time we going to try it. So, time to setup the bike on the Wahoo Kickr and customise some things on my Zwift in game avatar. Got to be looking on point on the group ride, right? Even virtually!
16:30 – More snacking and more stretching.

19:15 – Back on the bike for session two of the day, time to join up with the rest of the BEAT crew on Zwift!
20:30 – Zwift ride done with BEAT Cycling Club guys, I think a successful first meetup and a good bit of fun. Though next time I'll start it fresh, the social aspect only lasted for the first half until the hammer went down. It is race season after all..
21:00 – Time to refuel, another big day coming up tomorrow!
22:00 – News time and afterwards a bit of comedy series accompanied by my trusty bowl of muesli of course.
22:45 – Time to hit the snooze button.

07:30 – Time to start the day, in a pretty good routine at the minute. Not even setting an alarm just waking up when the body wants to which is around the same time every morning.
08:00 – Breakfast time – no surprise as to what I went for this morning. Porridge! Today's toppings; chia seeds, flax seeds, nuts, banana, apple, cinnamon and agave syrup. Dream combination. Also as it's the weekend I went wild and had some avocado on toast to partner it.
09:45 – 4hrs around a pretty hilly route today. It was also meant to be Volta Limburg Classic today, my first big target of this 2020 season. One of my favourite races of the year. So it was only right to go out and attack a few local climbs for a Strava KOM. Good for the morale!
14:00 – Home and the legs are feeling it, good thing about going for Strava times are you do not realise how hard your pushing till you look back later at the file. Solid day out, protein shake consumed.
14:45 – Lunch time, was looking forward to this during the last hour of the ride. Egg fried rice on the menu.
15:30 – Time for a well-earned nap. Zzzzzz.
16:30 – Like I said earlier in the week most days after training you really don't feel up to doing much. Today is one of those days. Watched some Youtube videos and chilled out.
19:00 – Food. Give me food. Us Brits love a good curry. Another homemade one tonight, a different recipe to earlier in the week though, don't worry. Got to mix it up!
20:00 – Hopped on Strava and planned a route ready for tomorrow. Meant to be great weather so heading out 5hrs. Job done and downloaded onto the Wahoo.
21:00 – That daily stretching routine, legs really feel a big difference afterwards.
22:00 – News catch up and pre bed snacking.
22:15 – Early night tonight, few pages of my book and I am ready to hit the snooze button.

07:15 – Up and at them this morning, sun is shining and birds are singing. Going to be a good day.
07:45 – Breakfast load up, big bowl of porridge and an omelette. Fuelled up well.
09:00 – Out on the road, solo 5hrs coming up in the Spring weather.
11:30 – Mid ride stop at the highest point on today's ride. Great views looking out onto Wales.
14:00 – Home time, another day done. Solid training week in the legs despite the current situation.
15:00 – Food and checking over the ride on Strava. May as well use the good form on some KOM's right? Another three in the bag today taking the weekly total to five.
16:00 – Big amount of chill time coming up, letting the training soak in. That and the boring stuff such as kit washing, tidying my room and house. I'm a big clean freak so like everything in order.
19:00 – Evening feast.
20:00 – Quick catch up with mates via the wonders of video calling
20:45 – Stretching session.
21:30 – TV time, chilled end to the day watching some classic British comedy series 'Only fools and Horses'
22:30 – Pre bed snacking and then off to sleep.
Fietsen kan op twee manieren: hard of
gesoigneerd.
Met de BEAT kit en producten
kan je beiden combineren.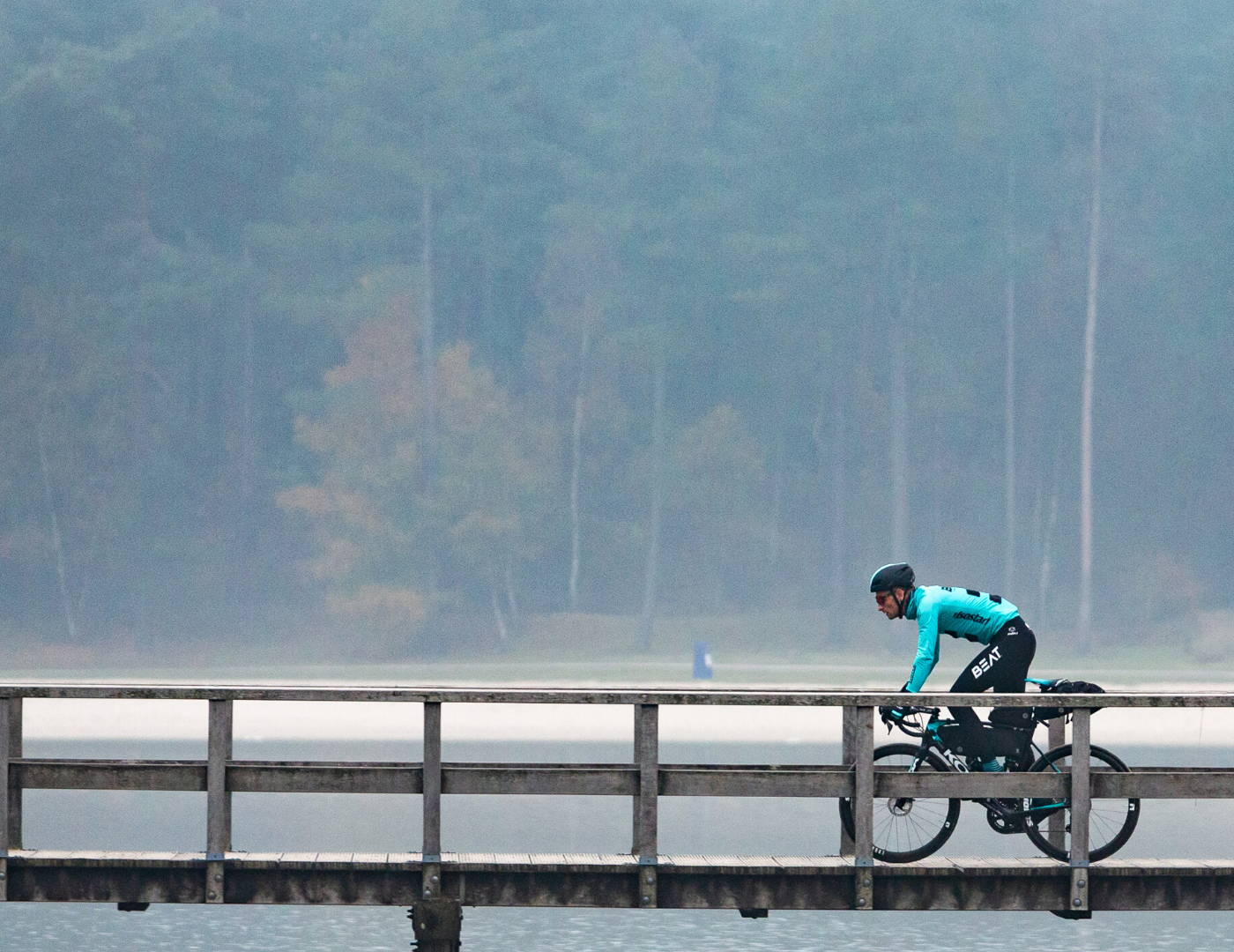 Ontvang de BEAT nieuwsbrief en
krijg toegang tot exclusieve
content.